Emily is a Chicago native based in Arlington Heights, IL. Her love of hospitality stems from her deep Italian roots which taught her that nothing is more important than love, family and food. Emily truly has a passion for people and helping them create memorable experiences through events!
Emily received her Bachelor's degree in Resort Management with minors in Special Event & Meeting Planning and Club Management from Ferris State University (Go Bulldogs!). She spent three years working in private and public country clubs, managing all aspects of weddings, golf outings, member events and more! She then moved into corporate event planning where she handled large scale trade shows and special events with an incredible team of planners. After two years in the corporate world she decided to follow her passion and open up her own event design & coordination company: Emily Nuzzo Events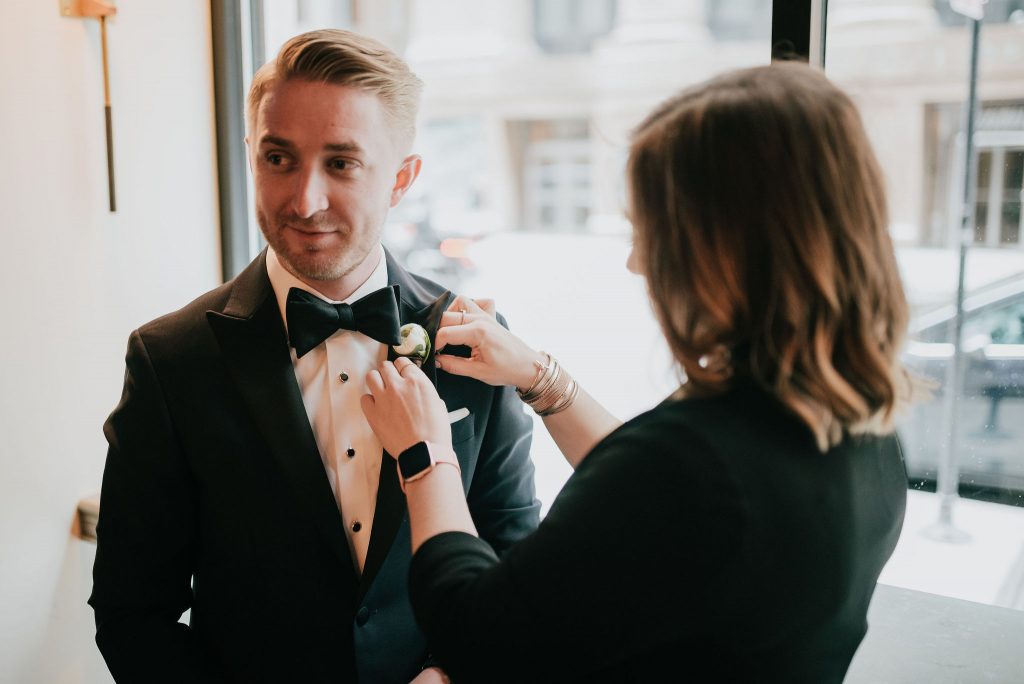 Do you have all of the pieces for your event and need a hand putting them together? We will come in a two months prior to your event and go over the details with you. We can discuss what you have already established and assist with what still needs to be done. From this point forward let us handle the logistics of your event to alleviate the last minute stress. On the day of, leave it up to us to handle the full event coordination. Sit Back, Relax & Enjoy!
Do you need help finding a talented team of vendors? Let us assist with budget creation and management then find the right vendors for you including contract and logistic management. We will also be available to provide recommendations for the look and feel of your event. On the day of, leave it up to us to handle the full event coordination, allowing you to enjoy every moment.
Do you have a vision for your event and need a hand bringing it to life?  We will start with the creation and management of your event budget. As part of the event design we will establish your colors, floral, menus, decor and anything else you can imagine. We will contract a team of vendors that are best suited to help create the vision of your event. On the day of, leave it up to us to handle the full event coordination. Your event will be flawless and we are here to ensure every minute detail is taken care of.
It seems we can't find what you're looking for.
praise for emily nuzzo events
We are so grateful to have worked with such thoughtful and fun clients!
Emily Nuzzo Events was the best thing I did after getting engaged. Working with her from the beginning made the entire process of wedding planning a breeze. She was so organized and kept everything on track even though we had so much going on in such a short time period. She made planning a wedding in two months seem like it was nothing. Emily worked diligently to make sure that I had everything I could have dreamed of while keeping all of the stress off of me. She recommended amazing vendors and managed all of those relationships flawlessly. Day of, everything went off without a hitch and she kept it all moving in the background so my whole family could just enjoy the wedding. She really went above and beyond. I could not more highly recommend her for your wedding or event.
Emily is a LIFESAVER. She was a crucial member in me keeping my sanity (as the bride) for months leading up to the wedding. She was willing to talk whenever I needed her, for however long. She helped plan & coordinate the timeline with her knowledge and experience and it was a huge lift off of my shoulders. On the wedding day, she kept me calm and reassured when it did not go exactly as planned. I truly believe she would do anything in her power to make a bride or groom's wedding day perfect. If you are having any doubts, don't! Emily will keep you stress-free, organized, and prepared. She will run all over town for you and ensure a flawless experience (even if the day goes awry :)) I would refer her a million times over!
With being an out of town mother of the bride, Emily set my mind at ease in ensuring the wedding ran smoothly. She was very easy to work with, punctual, and was most accommodating even when we needed last minute errands to be run. She made it easier for me to spend time with my family and friends and enjoy the whole experience.
ENE was the best and most valuable piece to our wedding. I cannot stop raving about Emily and how perfect she helped make our day. She was simultaneously professional and fun. Emily was able to take my vague suggestions and execute a vision that was not only spot on, but admired by the guests at the wedding. 
We had a DIY wedding on a dirty and working farm. Emily was able to help transform this venue into a classy event space, that fooled our guests into thinking this farm held beautiful weddings all the time! 
I have been telling my friends:
If you don't know how to negotiate vendors, you need Emily.
If you can't articulate every piece of decor that matches your vision, you need Emily.
If you want the most smooth set up and day of event, you need Emily.
If you're having a wedding and are feeling good about your event, believe me, you still need EMILY NUZZO EVENTS on your team!!!
Emily, we cannot thank you enough!! Our vision came to life because of your creativity, vision, and genuine love for what you do. Being in the Bridal business myself, it was transparent that you are meant to be doing this. Thank you for my winter wonderland:) I would recommend you to anyone!
From the moment I found out that my sister-in-law booked Emily, I could breathe. I had a very short engagement and planned most of the wedding myself. Once I Skyped to with Emily, I knew that I was in good hands. She made my wedding day 100% less stressful. From running errands to keeping everyone on time- she was calm, cool and collected. Emily even sat in a ridiculously long Taco Bell line with my husband and me in the backseat of her car after our wedding. She made our day a breeze and I cannot recommend her enough. Emily is every bride's best friend!
Emily helped me tremendously with the decor and on-day logistics of my wedding. I had a vision of what the details and reception decor was going to look like, but didn't know the best way to execute. I immediately went to Emily for guidance and she was so immensely helpful. I showed her all of my ideas for the different areas of the reception, and that day she  sent me a detailed outline of how to put together my DIY decor. The outline included inexpensive pieces to get from various craft stores in order to make my vision come to life. The help did not stop there, she also worked with my family to set everything up on the day of, and the room look amazing! I could not have executed my vision without her, the care she takes to do research at various craft stores and through Pinterest to help her brides execute their perfect wedding is unparalleled. She did a phenomenal job and any bride who works with her will be very happy with the outcome!
Emily was an integral part of our wedding planning process. She was extremely responsive and proactive with communication.  Her knowledge of event planning was very helpful when it came to the timeline and presented us with so many options unknown to us that really helped the day of process go seamlessly!  As a bride, I wanted to be involved in every single choice and always have a hard time delegating tasks or trusting others to take care of things but Emily knew exactly what I wanted down to the last detail and making sure everyone and everything was exactly how I wanted it.  She made the process so much less chaotic and truly made the day much more enjoyable. I couldn't have imagined the day without all of her help and coordination!!
If you are looking for a planner for your wedding, look no further. Emily was fantastic. She is super flexible with your specific needs. We needed someone to take over planning about a month prior to our wedding and manage the day of, and she was more than willing to do the job! All of our vendors loved working with her and she made my life as the bride so much easier. The day of the wedding, we had some unexpected bad weather, and she managed it with such positivity and poise. We had multiple people come up to us and comment on how great they thought she was and asked for her card. 10/10 I'd recommend Emily Nuzzo Events for all wedding planning needs!
Working with Emily was such a great experience. I knew exactly what I wanted my wedding day to be like but had a hard time imaging it and knew nothing about how to actually make it happen. After my first meeting with Emily I knew I was in good hands. From day one she made sure I didn't stress or worry about a thing, and I can say that even up until the very last minute before the wedding I never did. She navigated everything effortlessly and was so organized in her approach. If your looking for a wedding planner, day of coordinator or anything in between, Emily should be your first choice. I cannot thank her enough for making the whole process so fun and easy and helping to make our wedding day so dreamy.
Subscribe to our mailing list
Somewhere to post blog articles if you wanted